4G, 3G (CDMA) ,GSM Remote control board series
4G, short for fourth generation, is the fourth generation of mobile telecommunications technology, succeeding 3G.
3G and 4G equipment made for different countries are not always compatible because of different frequency bands.
4G,3G (CDMA) and GSM remote control switch, it connects to the mobile phone network and like a mobile phone has its own telephone number . The device is activated by calling its phone number, it will recognise an authorised telephone number calling it, reject the call without answering and switch on or off the device connected to it.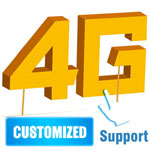 Important note:
USA version,that only means the Working frequency is for USA 4G mobile networks version. so any other countries ,that mobile networks working with the same frequency,then can use this 4G controller. For example,that CANADA is the 4G USA version. that Singapore,australia ,that is 4G Europe version.So if you are not familar with the selection,then please contact wafer company.
It's applications include the remote control of central heating, lighting, engine pre-heaters, aviation engine heaters, irrigation systems, water well pumps, pumping stations, cabin heaters, resetting & reboot of remote servers and routers, arming and disarming security systems.
Waferstart 4G controller ,we have full version for Australia, USA,Singapore and Europe
Model: GSM-RELAY 3G Version

3G Remote control board, Working with 3G and GSM cell phone network
7 Relay channel,each at 220V/10A power
Water-proof box for outside project
PC Program adapter and software included
Power supply with 12-24VAC/DC
All functions compatible with GSM-RELAY

Perfectly designed and working for USA,Australia,Singapore,Europe ....

Model: GSM-RELAY 4G Version

4G Remote control board, Working with 4G/3G and GSM cell phone network
7 Relay channel,each at 220V/10A power
Water-proof box for outside project
PC Program adapter and software included
Power supply with 12-24VAC/DC
All functions compatible with GSM-RELAY

Working band for USA:
UMTS: B2/B4/B5
GSM: 850/1900MHz
FDD LTE: B2/B4/B5/B12/B17

Working band for Europe,Australia:
FDD LTE:B1/B3/B5/B7/B8/B20
UMTS:B1/B5/B8
GSM:850/900/1800/1900MHz

Model: GSM-CTL 4G Version

4G Remote control board, Working with 4G/3G and GSM cell phone network
2 Relay channel,each at 220V/30A power
Water-proof box for outside project
PC Program adapter and software included
Power supply with 12-24VAC/DC
All functions compatible with GSM-CTL

Working band for USA:
UMTS: B2/B4/B5
GSM: 850/1900MHz
FDD LTE: B2/B4/B5/B12/B17

Working band for Europe,Australia:
FDD LTE:B1/B3/B5/B7/B8/B20
UMTS:B1/B5/B8
GSM:850/900/1800/1900MHz

Model: GSM-AUTO 4G Version

4G Remote control board, Working with 4G/3G and GSM cell phone network
2 Relay channel,each at 220V/30A power
Water-proof box for outside project
PC Program adapter and software included
Power supply with DC12V
All functions compatible with GSM-AUTO

On boar backup battery for power off alarm

Working band for USA:
UMTS: B2/B4/B5
GSM: 850/1900MHz
FDD LTE: B2/B4/B5/B12/B17

Working band for Europe,Australia:
FDD LTE:B1/B3/B5/B7/B8/B20
UMTS:B1/B5/B8
GSM:850/900/1800/1900MHz

Model: GSM-AUTO-AC 4G Version

4G Remote control board, Working with 4G/3G and GSM cell phone network
2 Relay channel,each at 220V/30A power
Water-proof box for outside project
PC Program adapter and software included
Power supply with AC100-240V
All functions compatible with GSM-AUTO

On boar backup battery for power off alarm

Working band for USA:
UMTS: B2/B4/B5
GSM: 850/1900MHz
FDD LTE: B2/B4/B5/B12/B17

Working band for Europe,Australia:
FDD LTE:B1/B3/B5/B7/B8/B20
UMTS:B1/B5/B8
GSM:850/900/1800/1900MHz

Model: GSM-AIR 4G Version

4G Remote control board, Working with 4G/3G and GSM cell phone network
16 Relay output switch channel
Rechargeable battery for power off alarm
PC Program adapter and software included
Power supply with DC12V
All functions compatible with GSM-AIR

On boar backup battery for power off alarm

Working band for USA:
UMTS: B2/B4/B5
GSM: 850/1900MHz
FDD LTE: B2/B4/B5/B12/B17

Working band for Europe,Australia:
FDD LTE:B1/B3/B5/B7/B8/B20
UMTS:B1/B5/B8
GSM:850/900/1800/1900MHz

Model: GSM-KEY 4G Version

4G Remote control board, Working with 4G/3G and GSM cell phone network
2 Relay channel,each at 220V/5A power
Water-proof box for outside project
PC Program adapter and software included
Power supply with 12-24VAC/DC

Working with keypad and remote password change and also can preset or expire the card for entry.

Backup battery for power off alarm

Model: GSM Power strip 4G Version

4G Remote control board, Working with 4G/3G and GSM cell phone network
2 Relay channel,each at 220V/10A power
Water-proof box for outside project
PC Program adapter and software included
Power supply with AC100-240V AC

We also can do the customized design for customer special requirements.

Backup battery for power off alarm

All functions compatible with GSM-POWER

Model: CDMA-AUTO

CDMA Remote control board,Working with CDMA2000 cell phone network
2 Relay channel,each at 220V/30A power
Water-proof box for outside project
PC Program adapter and software included
Power supply with AC110-240V

Onboard clock for scheduled time table to work
Both relay work at switch mode or pulse mode

Model: CDMA-KEY-AC

CDMA Remote control board,Working with CDMA2000 cell phone network for automatic door opener,electric gate.
Professional industrial grade CDMA engine
Water-proof box for outside project
PC Program adapter and software included
Authorized telephone number to open the gate

Model: CDMA-CTL-AC

CDMA Remote control board,Working with CDMA cell phone network
2 Relay channel,maximum at 230V/30A power
Water-proof box for outside project
PC Program adapter and software included
Config both relay working mode with Switch
Power supply with 100VAC to 230VAC