What is the difference between RTU5015 and RTU5015 3G version:
Answer: For RTU5015,that is GSM (2G) Version, and For RTU5015 3G,that is 3G version. Only some countries: USA, Australia, Singapore, Taiwan, Newzealand ... has stopped the GSM 2G service. For Above countries,have to use 3G or 4G version.For most of other countries,GSM version still can be used. Also Because 3G is compatible with GSM version. So 3G also can be used in other countries.
Technical FAQ for RTU5015 GSM Gate Opener: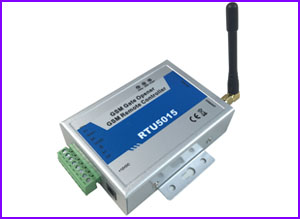 Which type SIM card should we use ?
1. Always disable the PIN code of the SIM card. If not, the our gsm device cannot operate.
2. Delete from SIM card all lists of SMS (inbox, outbox, sent items) and disable all additional services (answering service, call forwarding,etc). Do this using a normal mobile phone.
For the first time to use RTU5015 GSM Controller, Fast start with following steps:
1. Please put your sim card into it
2. Power on the device with DC12V
3. Use your mobile phone to call it , if it can reject your calling , then it is working properly.
4. Send a simple SMS command to the SIM card number in the device
1234#TEL64121668#01# ( Replace the number 64121668 to your mobile phone number)
When received the SMS ,the RTU5015 will reply your SMS and then you try to call it, the relay would be toggled.
Must firstly program your mobile phone number into the device authorized phones list,then you can have the right to change the password
---------------------------------------------------------------------------------------------------
Questions About Power input:
Question 1: What is the power input voltage for RTU5015?
Anwers 1: For RTU5015, Power input is DC12V. and you should connect the proper polarity to the power input port. If wrong,RTU5012 cann't be powered on.
Question 2: What is the power consumption of the RTU5015?
Anwers: 2: For RTU5015, when start the GSM module,that would need a maximum DC12V/0.8A current at a short time. And later would need around 40mA current (Relay is at OFF Status). So normally,we need to select at least DC12V/1A to DC12V 2A power supply for proper working with Relay ON.
Questions About alarm Input and Relay Output:
Question 1: If RTU5015 have some input for alarm sensors ?
Anwers: 1: RTU5015 has two alarm input for sensor connection. When ALM1 or ALM2 is shorted to GND,then will trigger the alarm and send the Alert SMS to 01 and 02 position authorized numbers.
Question 2: Sensor is NO type and when it is triggered (output is closed ),can receive SMS,but also want to receive the SMS when input is released (back to Opened )?
Anwers: 2: The RTU5015 has two alarm modes: M1 and M2 mode. When the user wants the alarm input port to send an alarm message whether it is disconnected or connected, then should select the M1 mode. ( 1234#M1# ) ................... When in M2 mode, according to the input setting of NO or NC, the alarm message will be sent only when the input port is connected or disconnected .
Question 3: How many outputs on one RTU5015 board ?
Anwers: 3: RTU5015 has one relay output and the relay output maximum switch power is 240V/3A. and RTU5015 has another relay output for alarm. That means,when the alarm input is triggered,the Alarm Relay output will be shorted for 10 seconds.Normally you can connect the DC12V siren to this relay output. This Relay output cann't be controlled by phone calling or SMS command.
Question 4: What voltage can be output from the RTU5015 Output port ?
Anwers: 4: RTU5015 output don't have any voltage or current. It is a simple switch, Just a switch type output. That means it working very similar as your switch. Two pins (COM and NO), when triggered,then that two pins would be shorted and when OFF, that two pins would be opened.You can use this switch to ON or OFF other device power cable. For example,you can use the output to ON or OFF a live wire of the motor power cable. If you are not familar with the RELAY output and how to use it properly,please check the file: Relay_control_output_faq.pdf
Question 5: How to control the Relay output and How to setup the relay working mode?
Anwers: 5: We can use your phone to dial the device number to control the relay output.There is a GOT timer ( For example 1234#GOT05# ) you need to setup it before using. After you dial it, then relay output will be triggered for the GOT timer and then will back to previous status automatically. that means, that is a PULSE output. If you want the relay can stay at ON status until another dial in. then you can setup the GOT timer data to "00", then RTU5015 will work at the Switch Mode. Dial it to ON and dial it again will back to OFF. Then you can use the command: 1234#GOT00# to set the device to switch mode. You can do according to the following picture:
Question 6: If I can connect a temperature sensor to the RTU5015 ?
Anwers: 6: RTU5015 doesn't have any input port. if you want to have more relay outputs and also want to check the temperature and send the alarm. you need to select other control board , For example our WF-TP02B controller, it has two relay output, two alarm input port and also have the temperature sensor input. you can know more about WF-TP02B Product: WF-TP02B.html
Question 7: Every time after I dial in, I will get a SMS confirmation, How to close this ?
Anwers: 7: RTU5015 can send the SMS confirmation to the First authorized number and the second number. If you don't need to , you can disable this function with command: 1234#N#, If you want to enable this function,you can use the SMS command: 1234#R#
Questions About The "Password" SMS problems:
Question 1: Why every time when diall to control the device,it will send me an SMS "Error password"?
Anwers:1: Please check your SIM card function and disable "Reject the calling with an SMS" , that means your mobile phone (not GSM controller) has a function,every time when your calling was rejected,your phone will also send an SMS to that number. Then when you dial the GSM controller and it reject your calling,then you send an SMS automatically to the GSM controller,but for GSM controller,that is not an proper command,so it thinks that you use a wrong password and then reply you an SMS "Error password",so you need to disable this function of the SIM card in your mobile phone " Reject the calling with an SMS ".
Question 2: Why every time I sent an SMS,but it relay with SMS "Error password "?
Anwers:2-1: Do not place any useless letters before or after the instruction, or any extra spaces.Also must be sure,that command is right SMS command,Do not use instructions from other GSM devices on this device.
Anwers:2-2: Pleae check your password ,if you have changed your password or other person changed the password, if cann't remember the passowrd, just RESET the device to orginal password "1234"
Question 3: Why does the device not respond when I send the Command to change the password?
Anwers:3: Must firstly program your mobile phone number into the device authorized phones list,then you can have the right to change the password.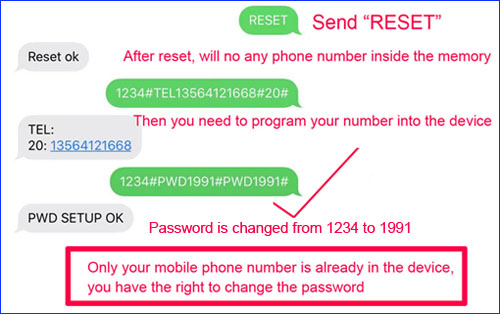 Questions About The APP:
Question 1: Where to download the RTU5015 APP ?
Anwers:1: Please go to Google play store or Apple app store to search the keyword: "RTU5015"
Question 2: Download my app directly
Anwers:2: Android app link: RTU5015.apk
Questions About The Manual:
Question 1: Where to download the RTU5015 Manual ?
Anwers:1: Normally in our package,we have a paper manual inside the box, if you need to download it,then please go to :

Questions About the 3G or 4G Controller: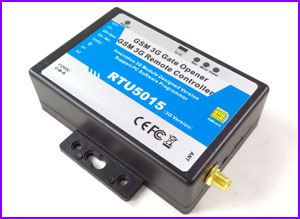 Question 1: GSM (2G) version is cheaper, What is the 4G or 3G Version advantage?
Anwers:1: GSM net is working perfectly in most of the countries in the world. But some countries including: USA,Australia,Singapore,Canada,Taiwan, New zealand .... These above countries have to use 3G or 4G version,, because GSM net is already closed. In addition, some other countries, GSM network no longer provide more future service and upgrades.
Question 2: For the SMS command, 1234#STATUS?# ,Why cann't received the SMS reply ?
Anwers:2: Please use the command 1234#REPLYON# to enable the STATUS inquiry reply.
-------------------------------------------------------------------------------------------------------------------------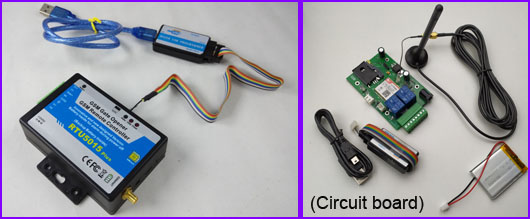 Questions About RTU5015 Plus ( Inside battery for power failure alarm)
Question 1: What is the new features of the RTU5015 Plus?
Anwers:1: RTU5015Plus has more features: (1)Totally compatible with Standard RTU5015; (2) New RTU5015plus support PC programmer for fast and easy programming and phone number management; (3) Support maximum authorized 999 numbers (Standard version is 200 numbers);(4)Realtime Data Log can be saved with Time stamp for later read out with PC software; (5) Support customzed SMS command to control the relay output: ON or OFF or PULSE; (6) Standard RTU5015 is metal box, RTU5015Plus is plastic box; (7) The 5015Plus has an additional battery interface, which can be used to alarm when the main power supply is powered failure.
Question 2: What is the usage for customized SMS command ?
Anwers:2: Sometimes you can setup a customized a SMS command as a pssword for the unauthorized users to control the relay output.When you don't want them to control the output, then just change the customized sms command would be okay.Because these unauthorized user are not in your authorized numbers list,so they don't have the right to modify the parameters of your device and only can use the SMS command you give to them.
Question 3: Why I have connected the supporting battery, but when I started the test, I disconnected the main power supply, why the board can not maintain power supply, and also can not send alarm SMS ?
Anwers:3: In the RTU5015Plus design, we need the main power supply to continue supplying power for more than 2 minutes until the device status LED starts to flash and the device is connected to the GSM net. At this time, the main power supply can be disconnected and will maintain the power supply through the battery and also send the alarm SMS. Otherwise, the battery cannot supply power.
Questions About PC programmer (Only RTU5015 Plus can use the PC programmer):
Question 1: Where to download the USB programmer driver ?
Anwers:1: https://www.silabs.com/products/development-tools/software/usb-to-uart-bridge-vcp-drivers
Question 2: Where to download the PC software for RTU5015 Plus?
Anwers: 2: http://www.waferlife.com/downloads/RTU5015Plus_programmer.rar
Question 3: Where to download the Manual for RTU5015 Plus?
Anwers: 3: http://www.waferlife.com/downloads/RTU5015Plus Manual
Question 4: How can I connect the RTU5015plus to My PC with the pc programmer?
Anwers: 4: Please check the following steps:
Step1: Go to Computer Windows Device manager to check if USB programmer has created a proper com port, if no COM port ,then check if you have already installed the USB driver.Normally after you pluged the USB programmer, Windows will find this new USB device and then you install the driver.If you are not sure how to install the USB device,then you can try to consult your friends with more more professional computer technology.
Step2: Run the RTU5015plus PC software and First select the right COM port.
Step3: Press the next "Open" button to connect to the RTU5015plus. (Of course before connect, RTU5015plus must be well connected with white connector and also powered on with SIM card inserted )

Any other questions on our products,please contact us: